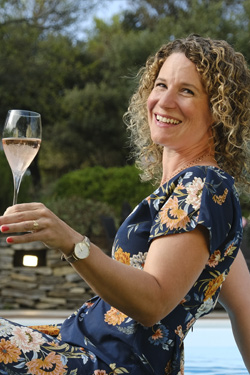 Florence grew up in the city of Lyon, France, but has always been surrounded by agriculture from the beginning as her grandparents were farmers. With a love for the outdoors and nature, she wanted to understand the agricultural process.

Florence studied agronomy in Montpellier, located in the Languedoc region of the south of France. Her discovery and passion for the wine world began here, and Languedoc became her home.

She went on to study oenology and she met her husband, who worked as a winemaker. After graduating, she left for an internship at Nederburg in Paarl, South Africa. She spent 6 months there, deepening her industry knowledge.

At age 22, she returned to Languedoc and found a permanent position as a winemaker in a cellar where she learned everything about running a winery.

Florence has been working for 10 years as a winemaker throughout the Mediterranean region. She is proud to be the winemaker for Fleurs de Prairie.